The oldest hospital in California — the only one serving the diverse population of Chinatown — now gone.
The local hospital that the community counted on just … closed. In as effort to make up for the loss, the building will be repurposed as a recreation center.
A two-year-old hospital with state of the art equipment went from chef-inspired meals to closure in the blink of an eye.
JOANNE FROGGE, BidMed President | I have liquidated more hospitals than one could imagine. I have walked the eerily quiet halls, the silence punctuated only by obstinately beeping equipment. It's a rare opportunity to see a hospital completely devoid of patients and staff, yet looking like everyone just stepped away from their station.
Messages are written on walls — reminders of a lifetime of memories experienced at that hospital. Patient white boards still display instructions, physician names, and goals for mom, like recognizing feeding cues with her baby. A beautiful white marble chapel serves as a consolidation area for equipment.
For most seasoned hospital executives, this is a first-time experience in their career; but for me, it's a typical project. The greatest assistance I can provide at this point is to guide them every step of the way, help maximize and recover the value that's left, and empty their hospital.
Even though I am in the business of closing down hospitals, it never feels right. The mission and vision statements are clearly emblazoned on the walls: to deliver the best care, relentlessly pursue excellent performance, and strive for continuous improvement and quality service. Where did these facilities go wrong?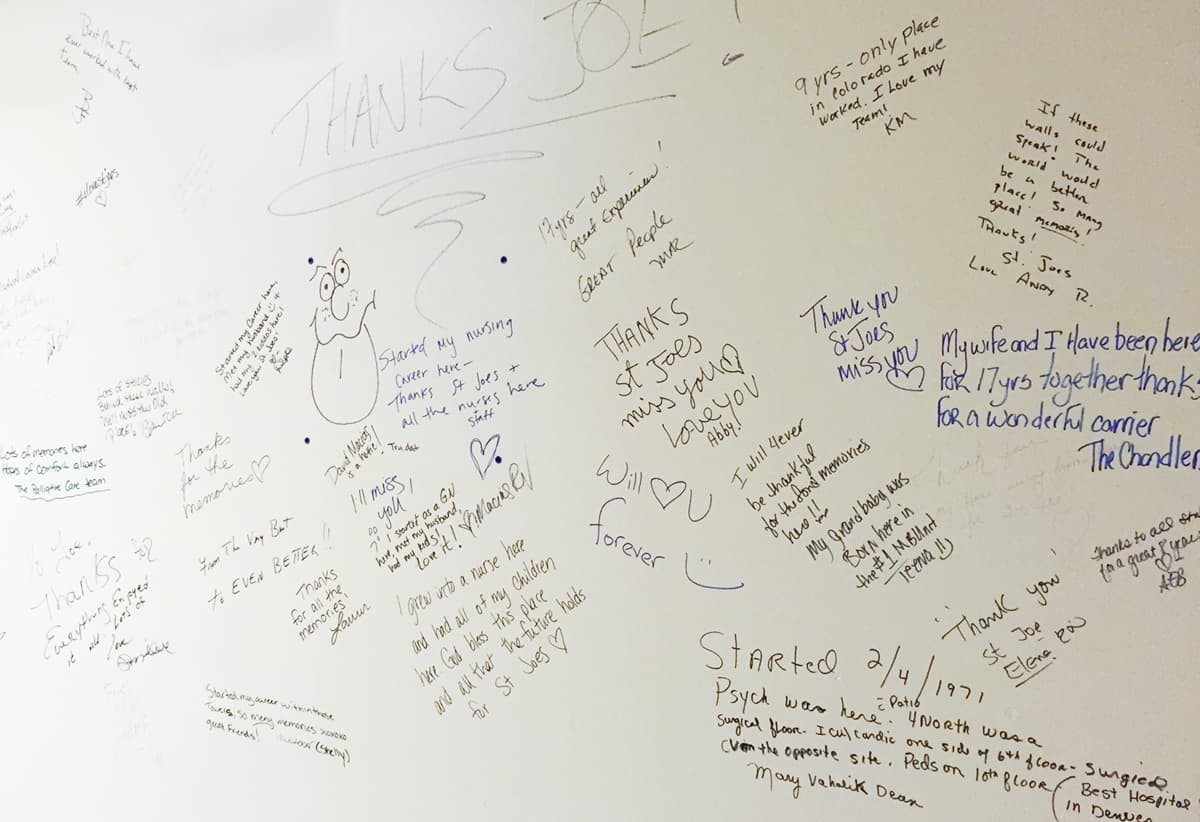 In a rapidly changing healthcare landscape, the industry is experiencing its lowest operating margins — typically less than 2% for nonprofit hospitals, with
480 U.S. private and public hospitals at risk of closure
. It doesn't take much to push a facility over the edge.
Revenue remains stunted from decreased reimbursement rates and inpatient admissions, while increases in Medicare patient volume, debt loads, wages, and competition from non-traditional players like CVS Health and Amazon continue to escalate. Many revenue factors are beyond a facility's control, like new regulations, federal mandates, and the ever-increasing challenge of population health. Operating cash flow is flat or slightly declining, hinging even more on providers' ability to further cut expenses.
Although salaries make up the largest operating expense, averaging 50% of a hospital's spend, supply and capital costs are not far behind. A recent Navigant study of 2300 U.S. hospitals estimated a $25.4B annual savings opportunity on supply chain expenses (including products, supplies, processes, and procedures) without sacrificing quality.
Today's landscape requires innovation and a digital transformation to drive consistent, proven processes and provide the necessary data required for smarter decisions. Hospitals can no longer afford to rely solely on traditional benchmarking tools, GPO pricing, and narrow solutions targeting just one or two areas for improvement. They must seize opportunities within the entire purchasing and contracting lifecycle in order to move the needle on the bottom line.
One company is helping move that needle. TractManager has integrated 6 best-in-class companies, creating an end-to-end closure avoidance solution for its 3500 contracted hospitals. Their formula for success is unique in that it combines business and clinical expertise — using the largest aggregate, real-time pricing data in the industry — to achieve stakeholder objectives.
TractManager takes a simple, 3-pillar approach to strengthen the bottom line: cost savings, cost avoidance, and exposing revenue opportunities.
Cost Savings

Strategic Sourcing Costs
New and Refurbished Capital
Purchased Services
Medical and Surgical Consumables and Supplies
Capital Equipment Service Contracts

Eliminate decision making inefficiencies using streamlined workflows

Volume pricing discounts from vendor contract consolidation
Cost Avoidance

Additional costs that exceed evidence-based value

Denied reimbursements due to insurance credentialing errors

Fines resulting from compliance issues

Unintended renewals and fees due to poor contract lifecycle management

Unforeseen costs due to inadequate capital replacement planning
Revenue Opportunities

Maximize reimbursement rates using the same clinical evidence as Payers

Expedite billing for new providers by shortening the enrollment and credentialing process

Fines resulting from compliance issues

Increase returns from trade-ins and retired medical equipment
Data, technology, and industry-leading expertise are the foundation to powering this comprehensive solution. By uncovering a spectrum of opportunities and making intelligent adjustments, the goal is to have revenue outpace expenses and put hospitals in a better position to save themselves.
Everyone is familiar with the concept of putting on your own oxygen mask before helping others. Hospitals need to be in the business of saving themselves first in order to save and improve the lives of those in the communities they serve.