How confident are you in your inventory's accuracy? Lost or inaccurate medical inventory can lead to significant financial losses for a number of reasons:
• higher expenditures due to asset underutilization
• equipment in storage that could be sold or transferred to another facility
• added expenses from service contracts on missing equipment
Many facilities use tools that are simply insufficient and leave a fragmented picture of their inventory. Our Inventory Management services provide a complete picture of your existing inventory, enabling effective future planning and ensuring valuable equipment never gets lost.
Our Tech Suite is designed to manage your assets and pave the way to an optimized capital management strategy, without wasting unnecessary time and energy.
Supplement these tools with inventory services that reset your records and create a fresh start. BidMed's services include inventory processing, reconciliation + accuracy reports, and data cleaning.
Complete Inventory Processing
Comprehensive Inventory Services include a team of BidMed specialists on-site at your location(s) assessing all existing assets, in use or storage.
Using our proprietary BidMobile app, our specialists will tag, scan, photograph, and document details (including make, model, description, location, and more) of all equipment. This data automatically syncs to our cloud database where it can be further cleaned, edited, and managed.
Clients then have access to this inventory either through a CSV database export, or within the Surplus Management (SMS) with a subscription plan. SMS subscriptions give facilities access to continue managing their inventory, reallocate assets within their health system, and buy or sell on our auction platforms.
Inventory Assessment + Reconciliation
Healthcare facilities with an existing inventory record of uncertain accuracy can benefit from our Inventory Reconciliation services.
Similar to Comprehensive Inventory Services, a team of BidMed specialists arrives on-site at your location to tag, scan, photograph, and document details for all assets present.
This data is then compared to the existing customer database and an Inventory Accuracy Report provided. The report includes:
Extra Assets | equipment found on-site, but not on customer's list
Missing Assets | equipment on customer's list, but not found on-site
Discrepancies | equipment both listed and found, but with inconsistencies in some or several of the asset's details (i.e. make, model, serial number, etc)
These details, as well as access to the clean database, are provided in the Surplus Management System with a paid subscription.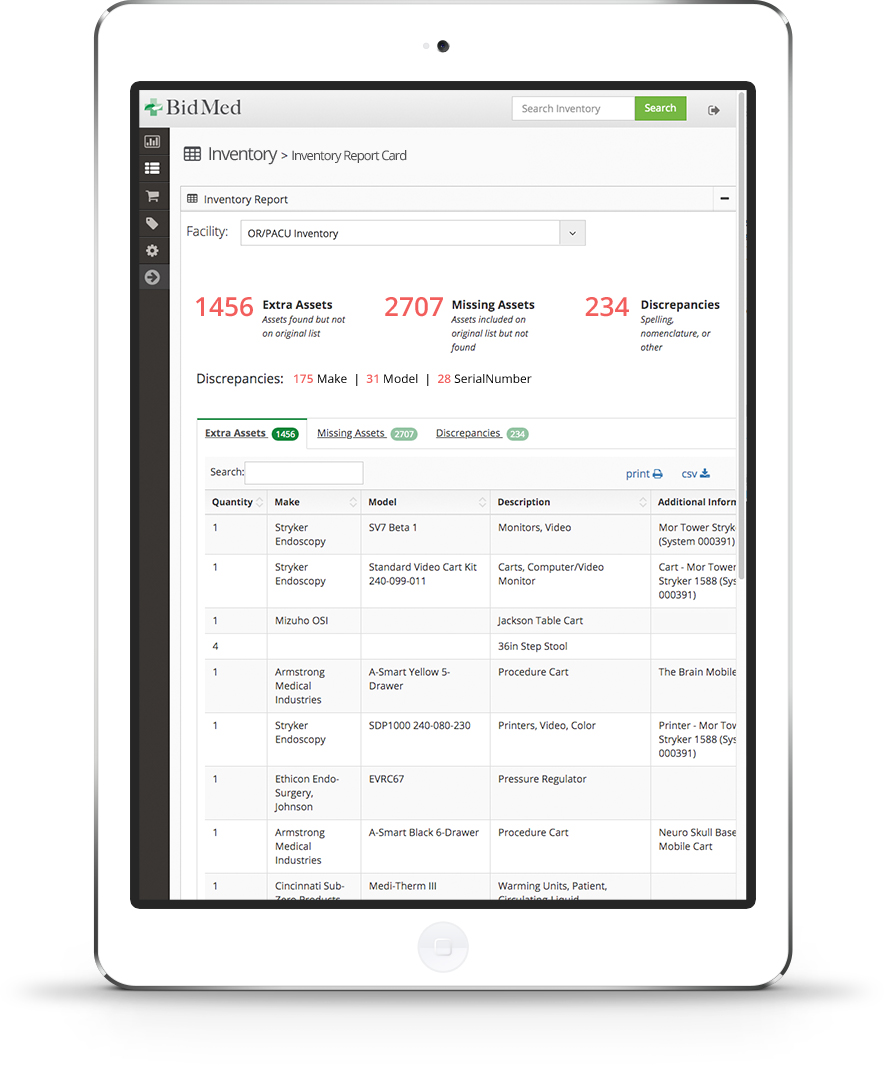 Data Cleaning & Nomenclature Standardization
Our mobile app and SMS platform include an auto-complete feature with more than 30,000 unique combinations of equipment make + model. This helps create consistency across the board, resulting in the most accurate inventory records possible.
Using autocomplete not only reduces time spent during inventory processing. It also helps eliminate spelling errors or other nomenclature inconsistencies that make a database difficult to search later.
While all databases created or validated by BidMed's expert inventory teams ensure accuracy and consistency, we also offer data cleaning as an add-on service for customers who have processed their own inventory.
If you frequently find errors or inconsistencies in your data, our specialists can help assess and standardize comprehensive records. Whether you're interested in standardizing an existing inventory (CSV file required), or are self-processing inventory using the BidMobile app and want optimal accuracy, please contact us for a customized quote.
---
Let our team of on-site specialists deliver a clean, comprehensive inventory record.