Management & Planning Services
The key to maximizing returns is having a plan before you need to act. BidMed's proactive approach starts with your capital budget review, forecasting excess assets and developing a strategic investment recovery plan.
Let BidMed assess your inventory and recommend the best disposition methods based on individual asset valuation. Our leading technology allows for quick inventory processing and management, with access any time and the ability to compare real-world prices, ensuring competitive disposition offers.
Inventory Management
Our ground-level Inventory Management service provides a complete picture of your existing inventory, enabling effective future planning and ensuring valuable equipment never gets lost. Many facilities use tools that are simply insufficient and leave a fragmented picture of their inventory. BidMed's Tech Suite is our collection of exclusive tools designed to manage your assets and pave the way to an optimized strategy.
Managing Your Inventory
Manage your equipment through our online Surplus Management System (SMS). Update item details online or through the app, request equipment appraisals with the BidMed GreenBook, and schedule items for disposition.
Planned Dispositions
A clean inventory is the first step to a proactive disposition strategy and huge financial returns. Easily connect to a BidMed rep and plan the best disposition method on the BidMed Exchange. Appraisals & Equipment Valuation
BidMed's core expertise comes from our medical equipment pricing database – the BidMed GreenBook.
We continually aggregate current pricing data, proprietary algorithms, and expert data review, providing a comprehensive understanding of your equipment's value and delivering the most accurate fair-market valuations of pre-owned medical equipment in the industry.
BidMed's GreenBook enables us to make the best recommendations for your disposition choices. By understanding the market, we can appraise your medical assets and more accurately predict today's market price. Using the BidMed GreenBook empowers decisions that lead to maximized returns for your facility. Do you have all of the data when making decisions about your retired assets?
Over 350 Hospitals Served Worldwide
$4.6 Million Recovered Above OEM Trade-In (USD)
$27 Million Recovered with Strategic Disposition (USD)
$14 Million Saved with BidMed Purchasing (USD)
Proactive Planning
We know many, if not all, healthcare facilities have capital purchasing plans and schedules, but have you considered how procurement of new equipment plays into the disposition of retired assets?
At BidMed, we develop strategic road maps that take both sides into consideration. Quite simply, these proactive plans have both saved and returned millions of dollars to health care facilities around the world.
The average U.S. hospital's annual capital spending is $10M, and their typical purchase list is usually double the available budget. Our goal is to close the gap between your facility's "wish list" and capital budget. By partnering with BidMed during the capital review process, your facility can:
access our proprietary pricing tool (the BidMed Green Book) to valuate your assets
forecast future retiring assets based on your equipment replacement schedules
develop a proactive, customized Strategic Disposition plan to maximize returns and increase your capital purchasing budget
analyze the best purchasing options, including sourcing quality refurbished equipment from our trusted partners
Proactive Planning allows us to understand your equipment replacement schedules and forecast future retiring assets. We work with facilities to develop a Strategic Disposition plan—avoiding fire sales, reducing costs, alleviating storage issues, and minimizing wasted labor and risk of equipment damage caused by excessive equipment relocations and storage shuffling.
Plus, we take accountability by providing you with our web-based real time reporting tool, giving you the metrics you need to track the values returned to your health system.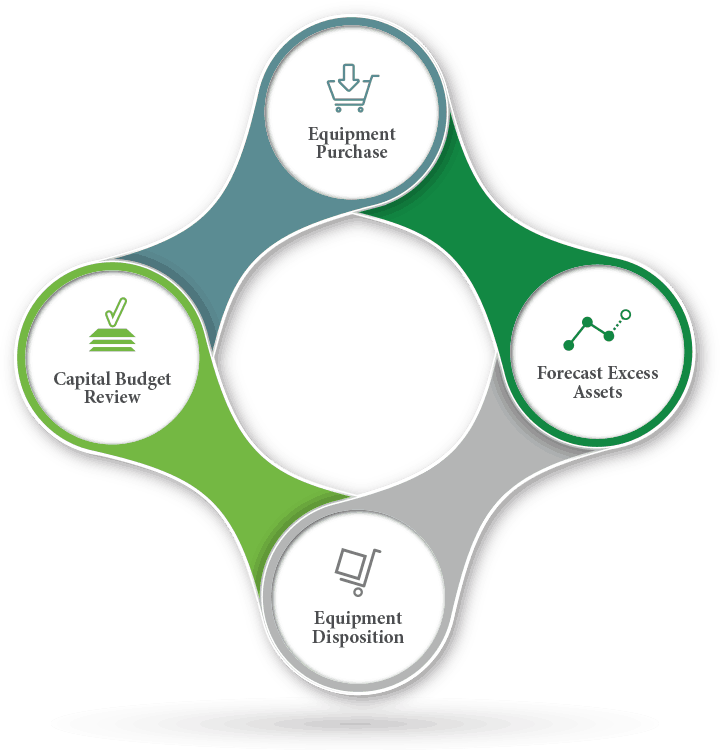 Strategic Acquisition
Buying Certified Pre-Owned Equipment
In the current economic climate, BidMed has witnessed a profound shift in the perception of purchasing pre-owned equipment.
Previously, buying refurbished medical equipment was difficult for hospitals. Many facilities faced obstacles choosing vendors, not knowing which refurbishment processes and warranties could be trusted.
Now, hospitals considering certified pre-owned equipment turn to BidMed. Once a facility engages our service, we present all of the best refurbished options. Vendors are vetted by BidMed—we personally visit these companies to confirm the quality of their work.
Strategic Disposition
Do you know your options when disposing of retired assets?
You may have more options than you think.
With over 20 years of experience in the healthcare industry, we have developed our own technology and data integration products which provide your procurement team with fair market values of retiring medical assets. This helps your team make informed decisions regarding disposition, such as:
whether or not to accept trade-in offers
determining reserves when selling assets
considering relocating equipment to other facilities
donating or scrapping low-value equipment
BidMed can assist in the following disposition methods, among others:
Sell at Auction
We have several online tools, including the BidMed Exchange (a live marketplace with Best Offer, Auction, or Buy Now listings) and Special Events (customized auctions built for facility projects including large-scale relocations and facility closures).
Contact a representative to get started selling!
Trade-In to the OEM
Similar to selling a car, trade-in offers from manufacturers are often lower than the amount you could receive selling your medical equipment privately. Using the BidMed GreenBook, facilities can evaluate trade-in offers against real market data to determine if trade-in offers are a good value for them.
Internal Transfers
Some facilities can retain value within their Health System by transferring retired assets to a sister facility. BidMed is happy to help facilitate these transfers within our SMS platform.
Donations
If a healthcare facility wants to donate assets, BidMed provides certified appraisals and coordinates logistics free of charge. Certified appraisals can be submitted for tax write-off savings.
On-Site Project Management
BidMed's unparalleled on-site project management may be the greatest benefit to our Strategic Disposition services. Many of our competitors will make the sale but leave you alone to manage complex logistics. We're different.
With a BidMed contract, a team of specialists comes on-site from start to finish, managing all logistics including sale preparation, equipment consolidation, sale, removal and de-installation of assets. We integrate with your staff and ensure equipment handling is efficient and professional. Take advantage of our depth of experience to tackle unforeseen hurdles before they arise.
Got equipment that's too heavy for your freight elevator? Do you need a crane or extra logistics to remove items from the building? How will you package and ship equipment to buyers? How will you manage daily dock schedules to coordinate ongoing buyer pickups? We've got you covered! This keeps surprise headaches off your to-do list so you can focus on what's important. And we'll be there from start to finish – no matter long it takes to get the job done.
Read more about our Strategic Disposition on-site management in these case studies.