Summary of Services
To achieve the client's goals of maximum returns on a very short schedule, BidMed proposed a multi-faceted plan including four primary services:
Complete Facility Inventory
Experienced on-site team provided to conduct a comprehensive inventory of the entire facility, including medical and non-medical assets. Fields captured were based on client requirements, and complete reports are available online to the client.
Comprehensive On-Site Project Management
Disposition process managed from start to finish, with BidMed's team integrating seamlessly with client's staff, providing daily updates throughout the process. BidMed on-site crews coordinate everything from initial inventory to de-installation and removal of equipment, connecting buyers with equipment at pickup, and foreseeing potential complications to minimize hiccups throughout the removal process.
Auction Execution, Including Marketing Strategy
Detailed marketing plans and industry knowledge allow us to connect with the right buyers to drive top participation in auctions. Along with a custom-built auction platform designed specifically for the nuances of the medical equipment secondary market, BidMed auctions are capable of reaching exceptional returns.
De-Installations & Removal
Our team provides logistics support coordinating the schedule of de-installations, certifying de-installation companies are licensed and insured, and overseeing the entire process until the asset is removed from the facility.
Tech-Empowered Team Provides Turn-Key Results
BidMed's proprietary technology suite distinguishes us from the competition. It allows for accurate inventory processing in record time, seamless integration from inventory management to auction listings, and actual sale pricing valuations to set and exceed recovery expectations.
"We couldn't have completed this project in 23 days without our tech. The only reason I feel confident doing proposals today is because of the tech." – Joanne Frogge, BidMed President & Co-Founder
Inventory with BidMobile and SMS
The BidMobile app was built specifically to optimize inventory processing. Teams can quickly tag, scan, and process all assets details, including photos, on pre-loaded mobile devices. Data is then synced directly to our cloud-based Surplus Management System (SMS) where it can be further edited and managed from a desktop computer. Using the app, BidMed's team was able to inventory the entire Walnut Hill 100-bed facility, including five cath labs and six full operating rooms, in just four days.
Expert Valuations and Project Management
Once uploaded from the BidMobile app, assets were easily assessed and grouped in lots for sale. Equipment could also be compared to our proprietary GreenBook valuation database to set expectations for sale values. Within the SMS, assets were reviewed and edited as needed (including details and photos). Inventory lists could be pushed directly from within the SMS to our auction platforms, making uploads and sales quick and easy. Upon completion of the sale, analytics reports were provided for customer records, available in either PDF or CSV format.
Marketing & Sale with BidMed's Custom Platforms
BidMed leverages customized marketing plans to successfully promote assets for sale to the right buyers, at the right time and through the right channels. Our team is able to provide this type of targeted approach due to our experience in understanding the buying motives and channel preferences of the buyer audience. Our online auction platform has also been built specifically for medical equipment on the secondary market, and has been customized according to the needs of this particular industry niche. BidMed also encourages international participation in our auctions by providing complete logistics and shipping support, earning us the Illinois New Exporter of the Year Award. Participation by these types of audiences brings the highest return for all materials. Marketing plans leverage social media, official press releases, advertising banners on BidMed's homepage, Google Ads, email campaigns, and direct marketing to known buyers.
De-Installations & Removal
Experience with large-scale removal projects means an ability to foresee challenges in removal and be prepared with minimal delays. Our detail-oriented team also ensures unprecedented cleanup following removals.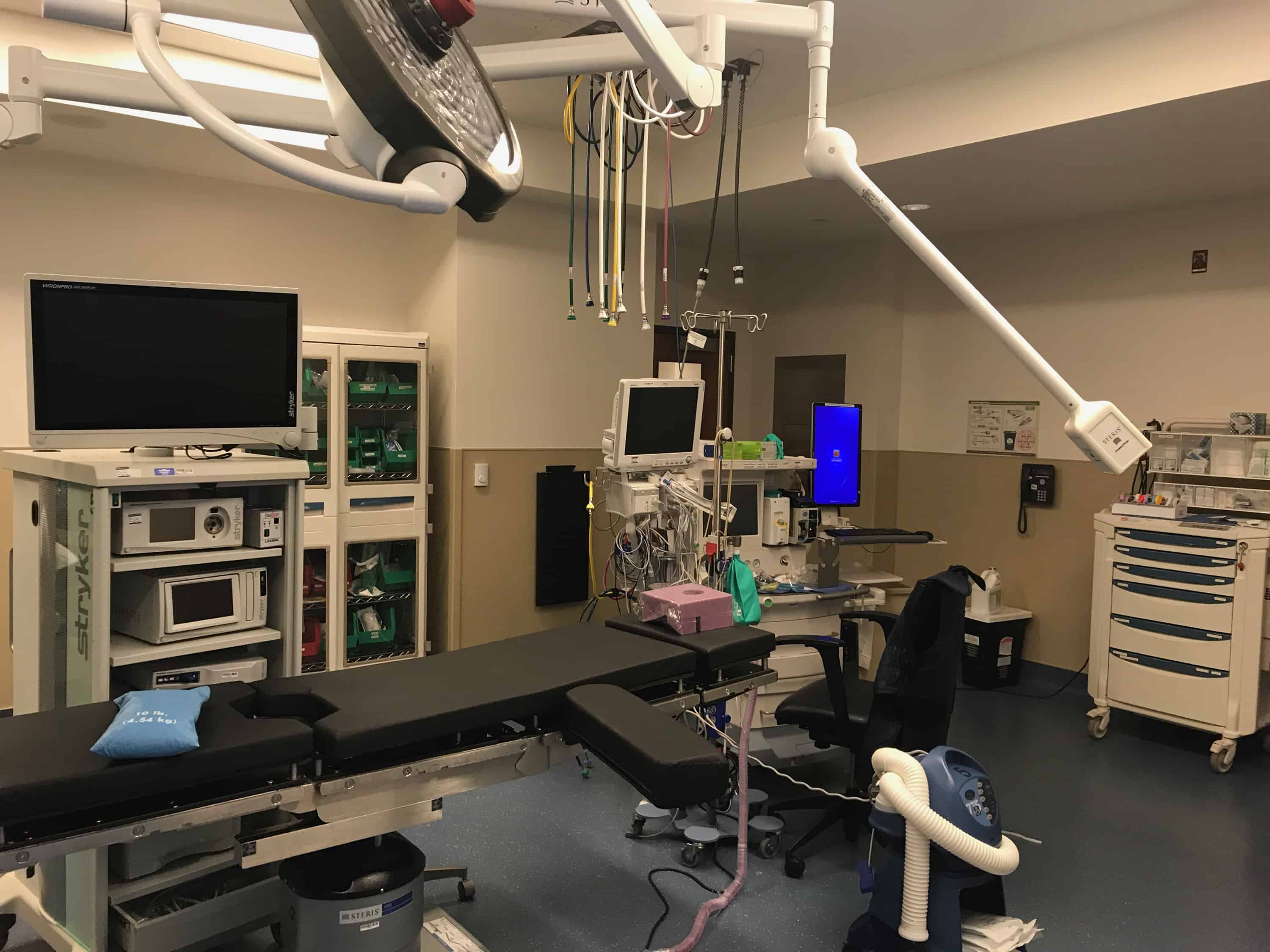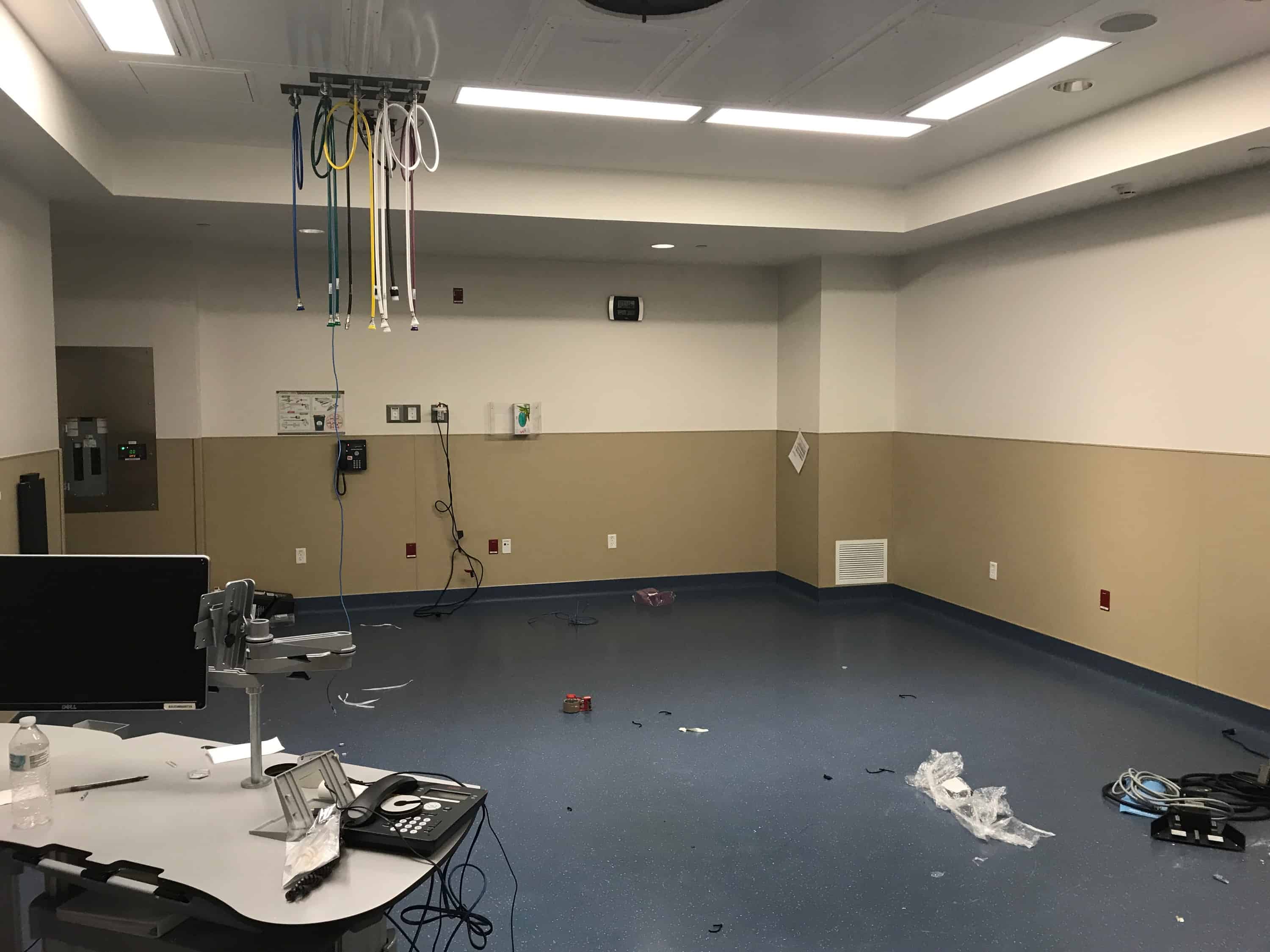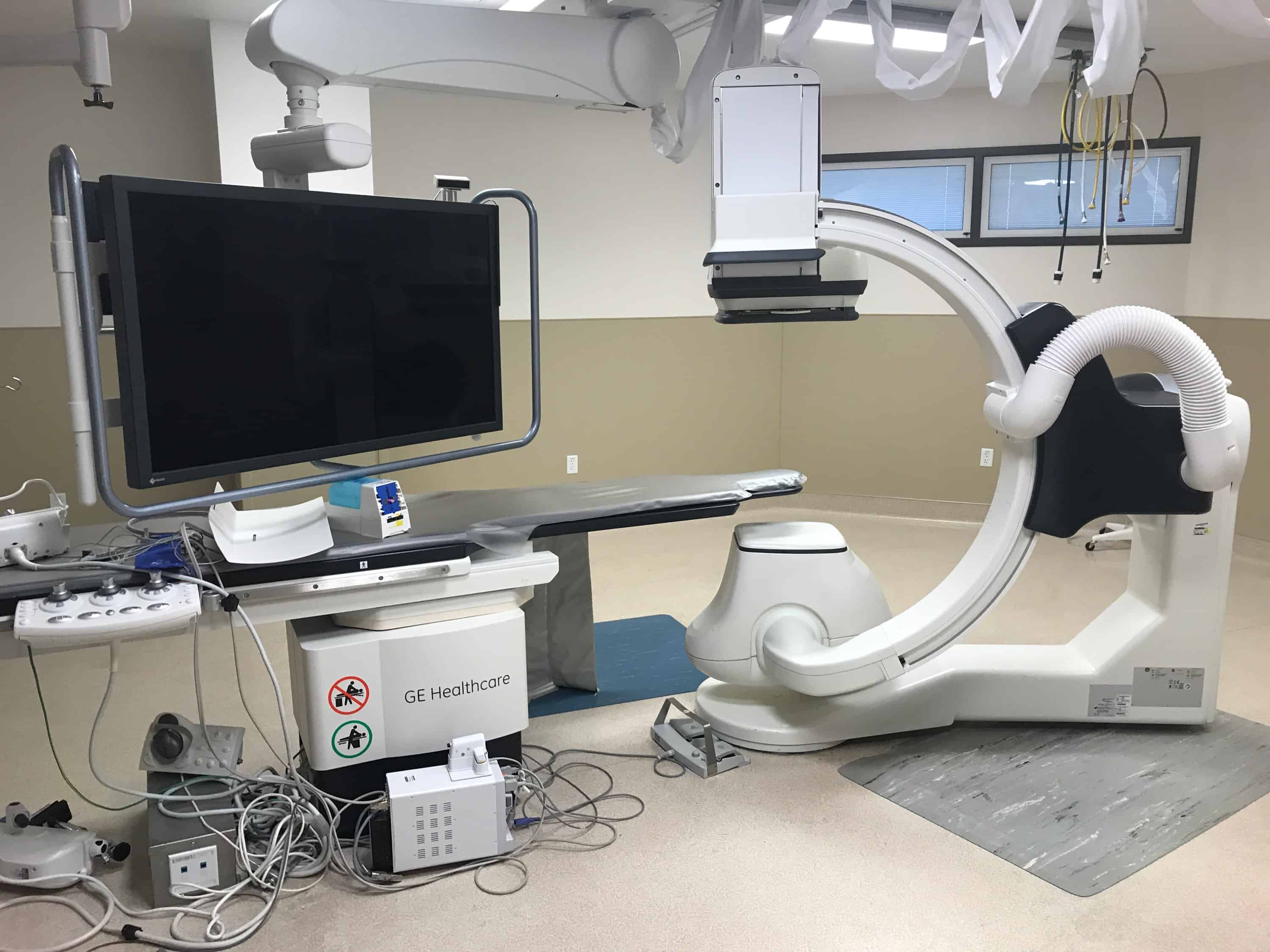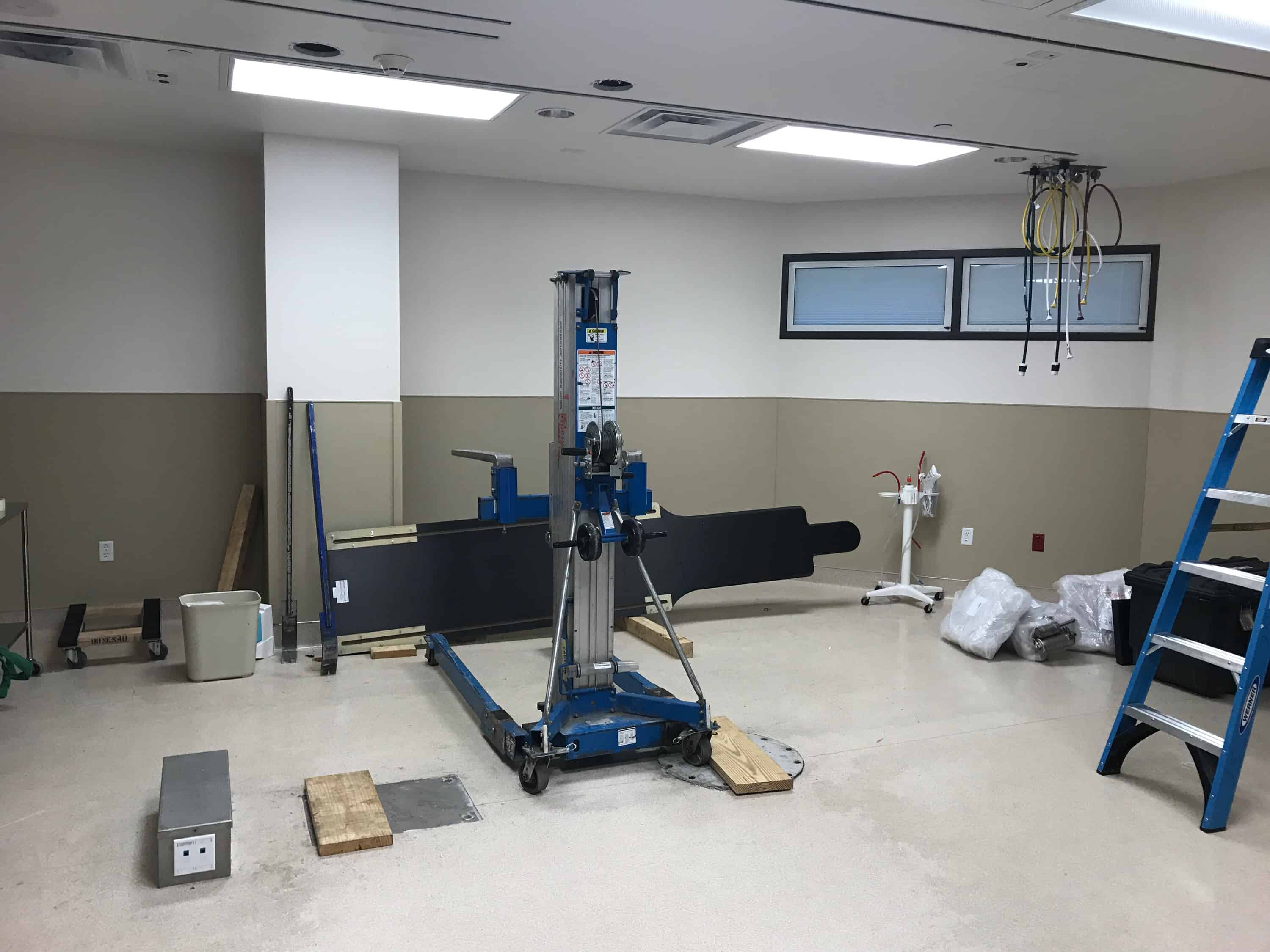 Click and drag to see before and after views.
In the case of Walnut Hill, the BidMed team had 6 days to pack and ship all sold items following the auction. It took a crew of 40 team members working in shifts for 24 hours and a special rigging team to remove larger items with a crane and forklift.
Because there was no loading dock, BidMed kept several vans on-site at all times. They built a makeshift yard in the parking lot where custom pallets and boxes were assembled for packing.
A few days before the deadline, several hospital representatives picking up their purchases on-site became interested in some of the unsold assets. The owner, GE Healthcare Financial Services, was asked to name their buyout price and agreed to sell if BidMed could match the required estimate. BidMed not only met GE's asking price, but so far exceeded it we covered our own and the trustee's fees for managing the liquidation.
Client Satisfaction
Prior to contracting with BidMed, the seven creditors who had financed all the equipment were concerned that their assets would be liquidated for pennies on the dollar. Walnut Hill's trustee leveraged BidMed's expertise to help persuade them, and the team worked to set conditions of sale, promising to meet certain reserves in exchange for participation. With an already limited timeline, BidMed not only inventoried the entire hospital within four days, but simultaneously petitioned for court approval of the sale. The approval was granted on July 17, allowing BidMed to begin marketing and advertising for the sale on July 25. By July 26, all the assets had been sold. "Conducting the auction and removing property sold in such a short time frame is highly unusual in a bankruptcy case—indeed, I have never seen such an auction conducted within this short of a timeframe," stated Jason Enright of Munsch Hardt in his recommendation letter. "BidMed initially set a conservative value of approximately $2.3 million for the property sold at auction. At the auction's conclusion, completed on schedule, BidMed ultimately garnered over $5.3 million for the property sold."