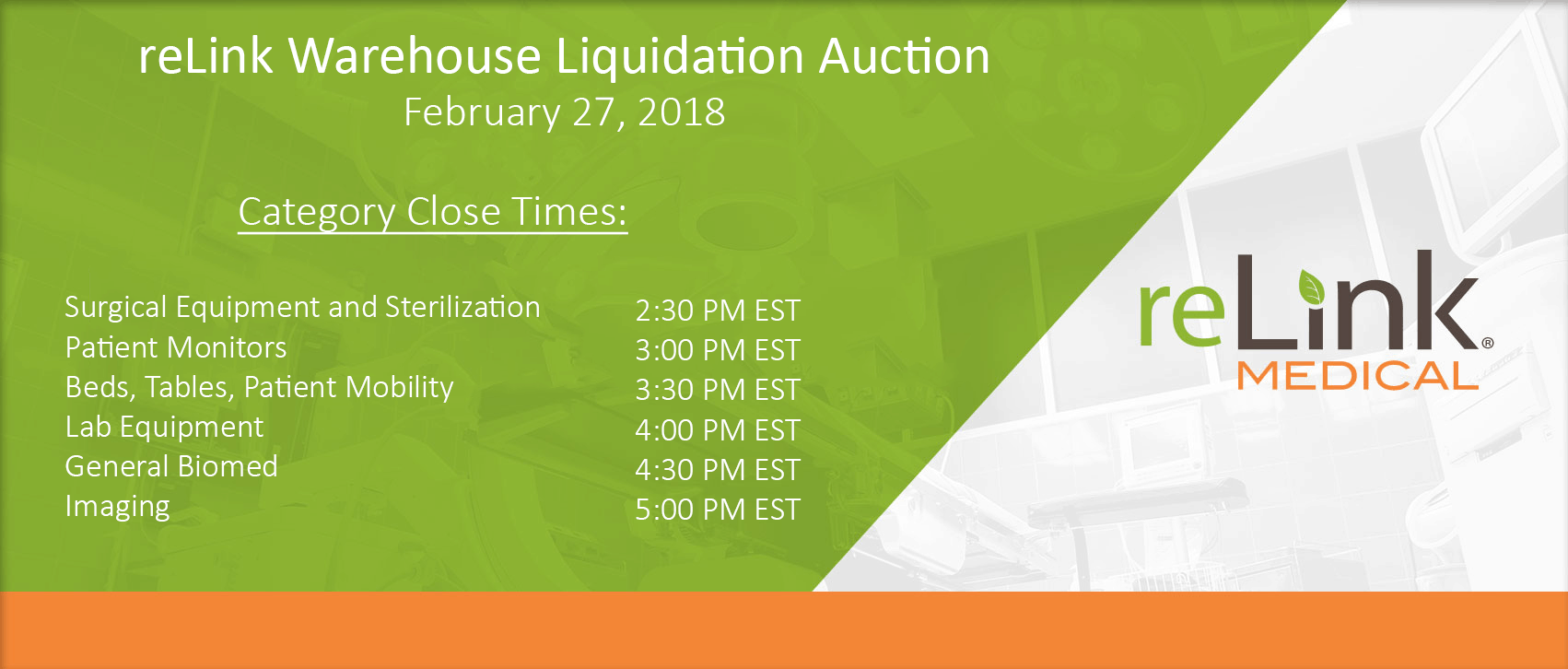 reLink Medical Auctions will be held at specific times throughout the year, offering buyers an extensive selection of wholesale medical equipment from all major brands. reLink's inventory comes from an extensive network of hospitals around the country that partner with reLink to offer medical equipment at wholesale prices when they are removed from service. reLink's warehouse liquidation auctions provide the opportunity to get great deals on pre-owned, as-is medical devices all conveniently consolidated in one place. This type of event is ideal for: dealers, refurbishers, part suppliers, and international buyers.
reLink Medical Auctions offer incredible value with low or no reserves, no buyer's premium, concierge inspection services, and post auction support for packing and shipping. Register today to take advantage of this great opportunity!
Event Highlights
Stryker Surgical Drills
Lab and Surgical Microscopes
Late Year GE AMX Plus
GE Patient Monitoring
Stryker Endoscopy
Entire Surgical Sets
AGFA and Fuji CRs
Exam Tables
Event Details
Registration Date:
Auction Date:
Start Time: Auction opens at
End Time: First equipment category closes at and categories continuing closing in -minute increments until all categories are closed
Inspection Date:
Virtual Inspections:
Equipment Pick Up Date:

Location
Receive Event Updates
Sign up here to get notifications for future events!
Inspection
reLink give users two convenient options for inspection. Registered users can inspect equipment onsite at located at , , on . Or registered users can sign up for a virtual Skype inspection appointment with reLink concierge. Skype appointments are available .
Please visit reLink's Concierge Inspection Registration to book both virtual and in-person inspection times.
Note: you must be registered for the auction by the time of your inspection appointment.
Registration
Participants must have a buyer account with BidMed in order to register for the auction. You can sign up for one here. If you have an account, you can register for this event by clicking the Register button at the top of this page.
Terms
All items are sold "as-is, where-is, no warranties, no guarantees". All sales are final. For complete terms and conditions, view the BidMed Terms of Use and reLink Medical Auctions Terms of Use.
There is NO BUYERS PREMIUM for this event. Order processing fee of 3% will be charged for payments made by credit card or PayPal.
Sales tax will be charged unless a valid tax exemption form is submitted. Please submit sales tax exemption forms to Susanne Collins at susanne@bidmed.com.
Payment Terms
Payment is due by . Acceptable forms of payment are cash, cashier's check, wire transfer, credit card, and PayPal. Credit card and PayPal payments incur a 3% processing fee. Equipment must be paid in full before it can be picked up.
Pick-Up
Winning bidders are responsible for removal, pick-up, handling, and transportation costs. However, with reLink's concierge services, complete assistance with both packing and shipping services are available. For more information, please visit our FAQ page.
Please contact or call to schedule a pick-up date/time.
Bidding
BidMed auctions feature automated bidding:
When placing a bid, you will enter the maximum amount you're willing to pay for an item; this maximum bid remains hidden and is never revealed.
BidMed then places bids on your behalf using the automatic bid increment amount (based on the current high bid), only increasing your bid as necessary to maintain the highest bid or meet the reserve price, up to your maximum amount.
If another buyer places an equal or higher maximum bid, we will notify you by e-mail so you can place another bid. Maximum bids remain confidential until exceeded by another buyer.
Auction Ending Time
Categories of equipment will begin closing at , and each category of equipment will close in -minute increments, until all categories are closed.
Within equipment categories, if an item is bid on in the last minutes, prior to the category closing, time will extend another minutes for that particular item. The auction time for the item will continue to extend in increments of minutes until bidding activity ceases for a -minute period.
If an item(s) within a category remains open due to continuous bidding at the end, the platform will close the remaining items in that category, and move on to the next category.
Auction Watch List
The watch list feature allows users to create a list of all the items they are interested in following. Users can add items to their watch list prior to and during the auction by clicking on the button with an eye symbol.
This feature allows users to keep an eye on all their items in the same place, which is especially useful towards the close of the auction. Users can avoid flipping through pages by consolidating all the items they want to watch/bid on in one place.
Additionally, users can place bids on the overview watch list page, allowing them to continue to watch all items while bidding on individual items.
Enhanced Features
BidMed's platform now features enhanced features to help users more easily navigate the auction. This includes improved search capabilities for specific equipment, including additional search filter, and ability to adjust number of items viewable per page.
Auction items also now end sequentially by product category in -minute increments, to avoid all items closing at the same time. Winning bidders can now immediately see what they won at the end of the auction by selecting "Items You Bid On" in drop down menu. All items won will be identified by "You are the highest bidder".
BidMed always appreciates user feedback, to share your suggestions, please e-mail support@bidmed.com.
Still have questions?
Please visit our FAQ page, or:
For questions related to reLink auctions, equipment, inspection, or pick- up, please e-mail at or call .
For questions related to BidMed's platform or bidding, please e-mail support@bidmed.com.
<script>/* */jQuery(function($){/* */ /*REGISTER BUTTON STILL NEEDS TO BE SET MANUALLY*/ /*LISTINGS BUTTON STILL NEEDS TO BE SET MANUALLY*/ $('.auction_in_session_dates').html("February 27th"); $('#event_title').text("reLink Medical Auction – February 2018"); $('#registration_date').html("NOW OPEN"); $('.auction_start_time').html("9am EST"); $('.auction_closing_time').html("2:30pm EST"); $('.category_closing_interval').html("30"); $('.item_closing_interval').html("5"); $('.payment_date').html("March 2nd"); $('.payment_time').html("6pm EST"); $('.inspection_date1').html("Feb 26th 9am–4pm EST"); $('.inspection_date2').html("Feb 19th – Feb 26th"); $('.equipment_pickup_date').html("Feb 28th – March 9th 8am–4pm EST (M–F only)");/* */ $('.location1').html("reLink Medical Warehouse"); $('.location2').html("777 Lena Drive"); $('.location3').html("Aurora OH 44202");/* */ $('.inspection_contact_name').html("reLink Medical");/* */ $('.inspection_contact_email').html("auctionsupport@relinkmedical.com"); $('.inspection_contact_email').attr("href","mailto:auctionsupport@relinkmedical.com");/* */ $('.inspection_contact_phone').html("216.762.0588");/* */ });</script>