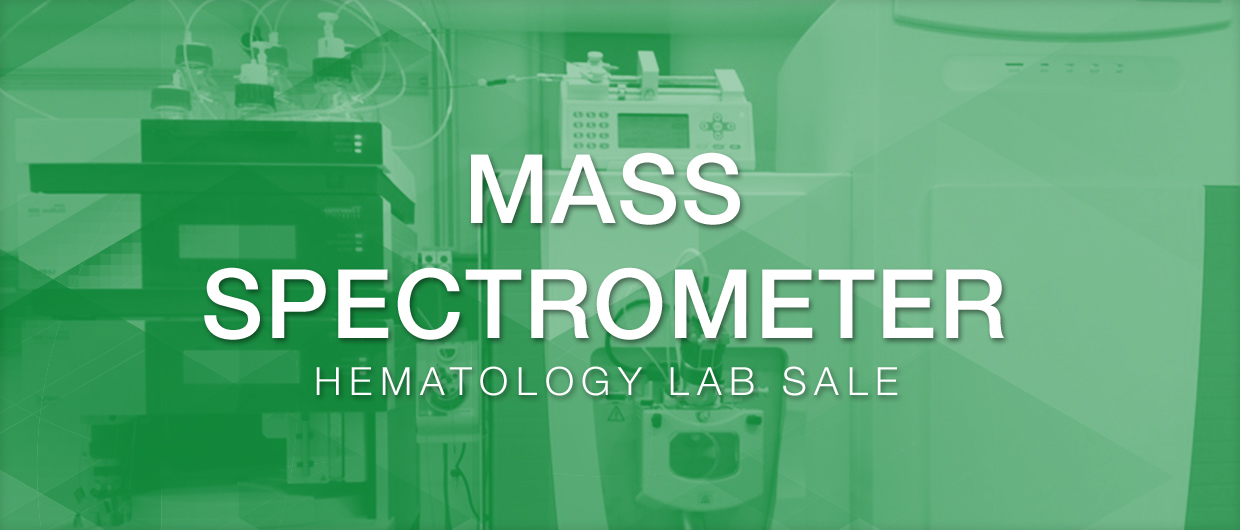 Offers Accepted Until:
Dec 18
Hematology Lab Sale
This Dallas-located, state of the art hematology lab is selling eight Agilent G6460 Triple Quad LC/MS machines. All units are less than four years old and currently operational at the facility.
This is an amazing savings opportunity to buy used lab equipment compared to new purchase pricing at $350k per mass spectrometer.
Sealed Bid Sale
This sale is an offer management (or sealed-bid) process. Competitive bids will not be displayed during the sale. Please submit your best offer for given listings. Offers will be accepted from interested buyers until the closing date of this sale. Winners will be notified within 24 hours of closing date.
Event Details
Registration Date: OPEN NOW
Offers Accepted Until: Dec 18, 4pm CST
Inspection Date: Dec 17
Equipment Pick Up Date: by Jan 4
Location
Gulfstream Diagnostics, LLC
9301 N Central Expy Twr 2 Ste 335
Dallas, TX 75231
Receive Event Updates
Sign up here to get notifications for future events!
About BidMed Medical Equipment Auctions and Events
Whether you're looking to save on purchases or disposing of retired assets, BidMed's online used medical equipment sale platforms help maximize your returns. These tools can be used to sell medical equipment located at your facility or consigned at our warehouse. Medical facilities can also buy used medical equipment in order to save on capital purchases.
BidMed Special Events (large-scale used medical equipment sales) may be conducted as either open auctions or sealed-bid sales using an offer management process. Please refer to specific event details to understand how a particular sale is being conducted.
Inspection
Registered users can inspect all equipment onsite at Gulfstream Diagnostics LLC, 9301 N Central Expy Twr 2 Ste 335, Dallas TX, on December 17. Please contact Tony Kay at tony@bidmed.com or 773.840.8134 to schedule a visit.
Terms
All items are sold "as-is, where-is, no warranties, no guarantees". All sales are final. For complete terms and conditions, view our Terms of Use. A 15% Buyer's Premium is added to the total purchase price of the invoice. Please submit sales tax exemption forms to Susanne Collins at susanne@bidmed.com.
Payment Terms
Payment is due December 21 by 5pm CST. Acceptable forms of payment are cash, cashier's check, wire transfer, credit card, and PayPal. Credit card and PayPal payments incur a 3% processing fee. Equipment must be paid in full before it can be picked up.
Pick-Up
Winning bidders are responsible for all de-installation, removal, pick-up, handling, and transportation costs. Equipment must be picked up by January 4. Please contact Tony Kay at tony@bidmed.com or 773.840.8134 to schedule a pick up date/time.
Sealed-Bid Sale
Offers will be accepted until the closing time of this event. This is a sealed-bid sale, so offers will not be publicly displayed. After closing, offers will be submitted to the seller and winners will be contacted within 24 hours.
Event Watch List
The watch list feature allows users to create a list of all the items they are interested in following. Users can add items to their watch list prior to and during the auction by clicking on the button with an eye symbol. This feature allows users to keep an eye on all their items in the same place, which is especially useful towards the close of the auction. Users can avoid flipping through pages by consolidating all the items they want to watch/bid on in one place. Additionally, users can place bids on the overview watch list page, allowing them to continue to watch all items while bidding on individual items.
Still have questions?
Please feel free to call Susanne at 773.886.1759. BidMed always appreciates user feedback, to share your suggestions, please e-mail susanne@bidmed.com.
<script>/* */jQuery(function($){/* */ /*REGISTER BUTTON STILL NEEDS TO BE SET MANUALLY*/ /*LISTINGS BUTTON STILL NEEDS TO BE SET MANUALLY*/ $('.auction_in_session_dates').html("Until Dec 18"); $('.auction_open_date').html("[month day]"); $('.auction_close_date').html("Dec 18"); $('#event_title').text("Hematology Lab Auction"); $('.registration_date').html("Open NOW"); $('.auction_start_time').html("[DELETE]"); $('.auction_closing_time').html(6pm CST"); $('.category_closing_interval').html("[30]"); $('.item_closing_interval').html("[15]"); $('.payment_date').html("Dec 21"); $('.payment_time').html("[TBD]"); $('.inspection_date1').html("Dec 17"); $('.inspection_date2').html("[virtual inspection TBD]"); $('.equipment_pickup_date').html("before Dec 31");/* */ $('.location1').html("[site name]"); $('.location2').html("[street address]"); $('.location3').html("Dallas TX");/* */ $('.inspection_contact_name').html("Andres Serritella");/* */ $('.inspection_contact_email').html("andres@bidmed.com"); $('.inspection_contact_email').attr("href","andres@bidmed.com");/* */ $('.inspection_contact_phone').html("773.819.2023");/* */ });</script>