Hospitals and healthcare facilities can optimize their capital equipment planning process with the secondary market — obtaining more wish list items within tight budgets.
While the Public Exchange is an ideal source for savings on quality secondary market medical equipment, these listings may vary with market fluctuations. The Catalog, however, includes listings that are consistently available from our Certified Refurbishers*.
*assets sourced may be an alternate, though comparable, model and will always be appropriate for your facility's needs.
What are catalog listings?
Certain common equipment is regularly available from BidMed's trusted network of refurbishers. These assets can be found on the Public Exchange under Catalog listings.
With over 13,000 items, this equipment will be listed as refurbished (see equipment condition categories) and available from Certified Refurbishers (understand seller types).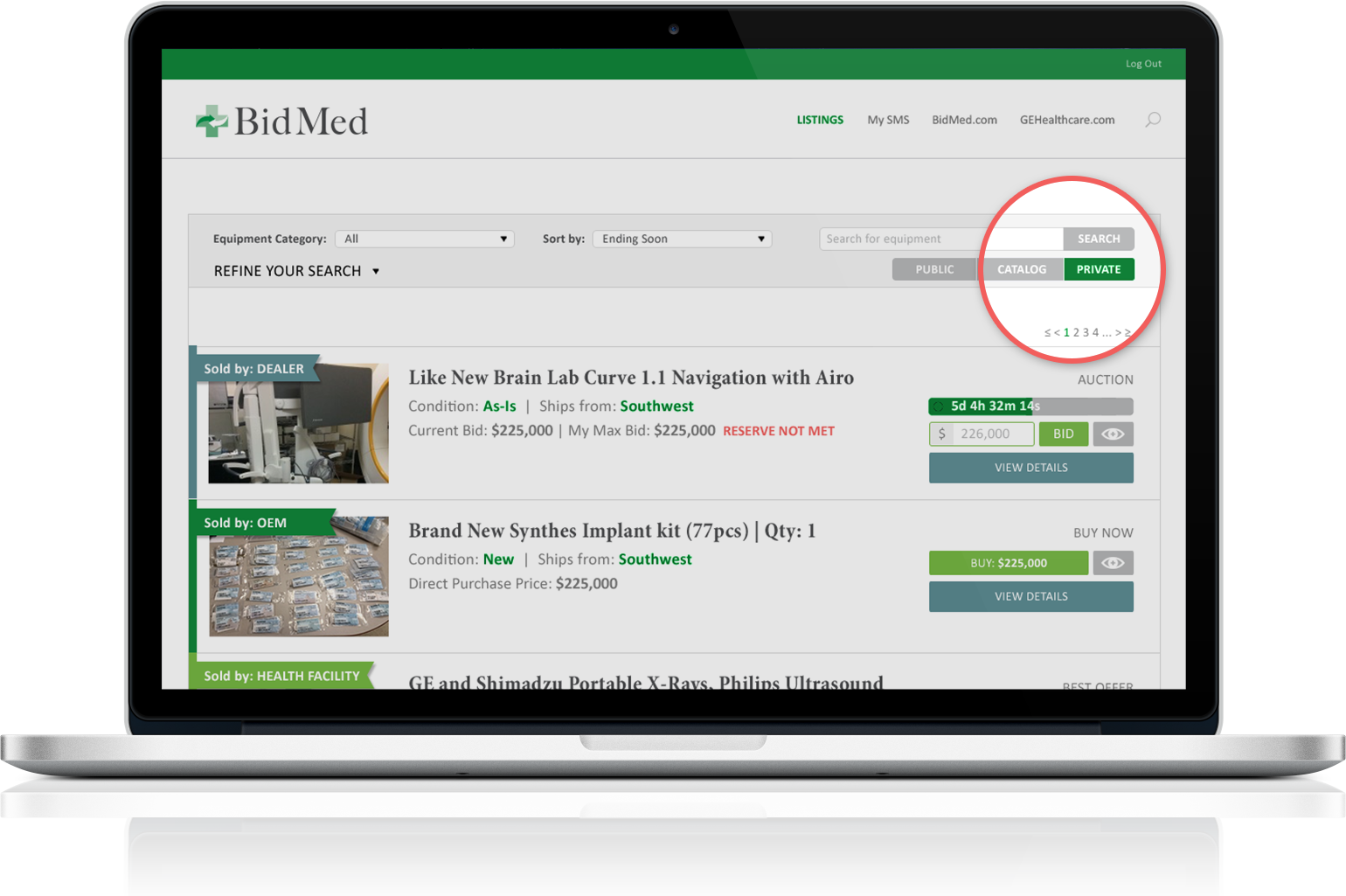 How to Buy Catalog Listings
Health facilities will benefit most when engaging BidMed at the beginning of the Capital Asset Planning process – while you're preparing budgets and balancing wish lists. This allows us to provide pre-owned equipment pricing and identify opportunities to buy refurbished, as well as strategically plan the disposition of retiring equipment.
But for facilities looking to manage their capital replacements independently, or looking for just a couple assets, the BidMed Catalog is a great place to start.
1. Search for Assets
Search by Category | Listings are classified into 20 categories for your convenience, including:
Anesthesia
Beds/Stretchers
Cardiology
Endoscopy
Exam room
Instrumentation
Laboratory
Lasers
Monitoring
Neurology
OB/GYN
Ophthalmology
Patient care
Pediatrics/neonatal
Pumps
Radiology
Respiratory
Sterile processing
Surgery/OR
Urology/nephrology
Search by Name or Keyword | Get more specific by searching make, model, or equipment type (i.e. "ventilator" or "birthing bed").
2. Request Information
Once you've found the listing that aligns with your needs, click "Details" and then "Request Information."
A representative will touch base to confirm specific details (including specs, budget, and timeline requirements), and will follow up with asset(s) that fit your needs.
*users must be logged in to request information
3. Completing Your Purchase
Choose the best options for your facility based on the asset(s) sourced by your BidMed representative. We will assist you throughout the process to connect with and complete your transaction with the seller.
Shipping and delivery will vary depending on the seller and location of equipment.
---
Questions? Comments? Ask us in the comments below!