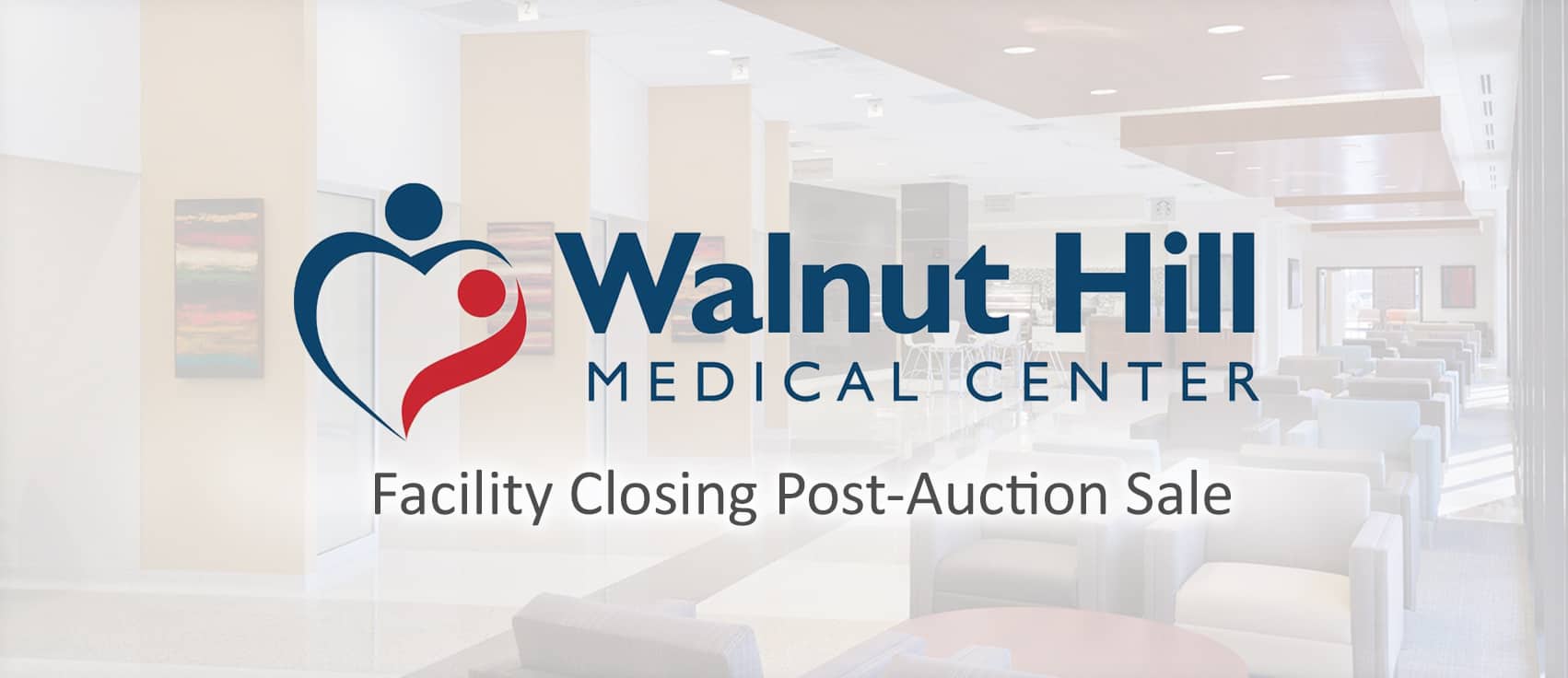 Offers Accepted Until:
November 14, 2017
2pm
*

(CT)
Walnut Hill Closure | Post-Auction Sale
Following the closure of Walnut Hill Medical Center, remaining assets are now available for sale!
All assets are "like-new" and less than four years old!
Available Equipment Includes
(7) Mindray A5 Anesthesia Machines
(80+) Mindray DPM 6 Monitors
(20+) Mindray DPM 7 Monitors
Haemonetics TEG 500 Lab Analyzer
J&J Sterrad NX Sterilization System
Boston Scientific Maestro 3000 RF Cardiac Ablation System
Carefusion AVEA Standard Ventilator
Medrad Stellant Dual Injector
And all furnishings including artwork, furniture, and TVs
Offer Management Process
Offers will be accepted from interested buyers until the closing date of this sale. Winners will be notified by 5pm on closing date.
This is not an auction, and competitive bids will not be displayed during the sale. Please submit your best offer for given lots and items.
Due to the unique nature of this event, no Buyer's Premium will be charged.
Insurance Requirements
Anyone coming onsite, including any subcontractors, de-installers, or transportation companies, must present a current certificate of insurance, naming BidMed and the building owner as additional insured. Building owner info will be provided to those confirming visits or pick-ups onsite.
Event Details
Registration Date:
Automatic registration with BidMed account
Sign up for a FREE Buyer's Account
Event Date:
Offers accepted until Nov 14 | 2pm* (CT)
*Deadline has been extended from 12pm
Inspection Date: Nov 9
For an appointment, contact:
jackie@bidmed.com | 773.840.8143
Equipment Pick Up Date:
All equipment must be removed by Nov 20.
Payment in full required before pickup.
Location
7502 Greenville Ave
Dallas, TX 75231
Receive Event Updates
Sign up here to get notifications for future events!