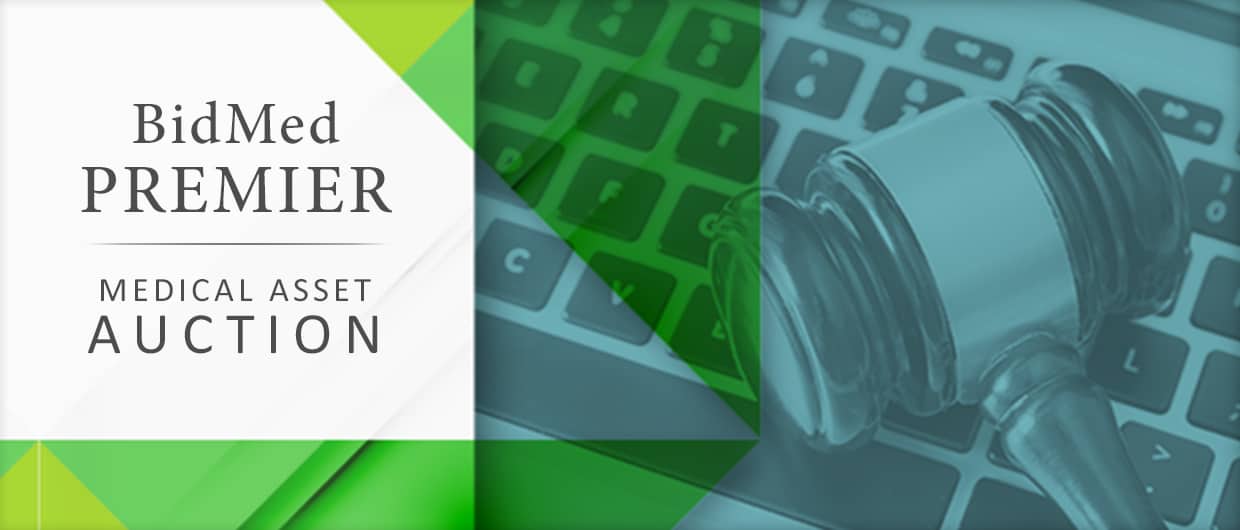 Auction will be in Session:
WELCOME to the two-day inaugural launch of BidMed Premier Auction events!
The goal of BidMed Premier Auctions are to create a trusted, consistent destination event for all buyers seeking affordable, dependable solutions to their medical asset needs. BidMed Premier Auctions will be conducted regularly and will feature high-end assets that are ready for installation, sourced from our vetted selection of hospitals, refurbishers, OEMs, and re-sellers. Assets will vary across all modalities and many will come with limited warranties from the reseller.
There is no Buyer's Premium for this event.
Event Highlights:
Radiology
2007 GE Lightspeed RT 16-Slice CT Scanner
2005 Siemens Sensation Open 24-Slice CT Scanner
2007 Siemens Difination DS 128-Slice CT Scaner
Siemens Espree 1.5T 8-Channel MRI
Faxitron MX-20 Specimen System
(2) Fujifilm FCR XG-1 CR Reader
(4) GE AMX 4 Plus Portable X-Ray
Hologic Selenia Mammography System
GE Senograph 2000D Mammography System
GE Vivid 7 Ultrasound
Philips HD11 Ultrasound
Philips HD11XE Ultrasound
Siemens Sonoline G40 Ultrasound
Siemens Sonoline G50 Ultrasound
Surgery/OR
Amsco 3080RC Surgical Table
Amsco 3080RL Surgical Table
Steris 3085SP Surgical Table
Steris Quantum 3080SP Surgical Table
Zeiss OPMI 1-FC Surgical Microscope
Zeiss OPMI CS Surgical Microscope

Monitoring
(12) Philips MX800 Patient Monitor
Beds/Stretchers
(6) Hill-Rom Advanta P1600 Hospital Bed
(8) Stryker Stretcher
(9) Stryker Epic II 2030 Hospital Bed
(16) Stryker Secure II 3002 Hospital Bed
Sterilizers
(10) Ritter M9 Ultraclave Sterilizer
(2) Tuttnauer 3870EA Sterilizer
Respiratory
(2) Versamed iVent 201 Ventilator
(9) Siemens Servo 300a Ventilator
Siemens Servo 300 Ventilator
Puritan Bennett 760 Vetilator
Laboratory
Horiba Pentra 80XL Hematology Analyzer
(3) Siemens Immulite 2000 Immunoassay Analyzer
(6) Roche Cobas Integra 400 Chemistry Analyzer
Roche Cobas Integra 400 plus Chemistry Analyzer

Event Details
Registration Date:
Auction Opens: ,
Auction Closes: ,
Equipment Pick Up Date:

Location
Assets will be shipped or picked up from seller locations.
Locations of equipment by REGION will be provided prior to auction.
---
Receive Event Updates
Sign up here to get notifications for future events!
---
Terms
All items are sold "as-is, where-is, no warranties, no guarantees". All sales are final. For complete terms and conditions, view our Terms of Use. Please submit sales tax exemption forms to Susanne Collins at susanne@bidmed.com.
Payment Terms
Acceptable forms of payment are cash, cashier's check, wire transfer, credit card, and PayPal. Credit card and PayPal payments incur a 3% processing fee. Equipment must be paid in full before it can be picked up.
Pick-Up
Winning bidders are responsible for all de-installation, removal, pick-up, handling, and transportation costs.
Bidding
BidMed auctions feature automated bidding:
When placing a bid, you will enter the maximum amount you're willing to pay for an item; this maximum bid remains hidden and is never revealed.
BidMed then places bids on your behalf using the automatic bid increment amount (based on the current high bid), only increasing your bid as necessary to maintain the highest bid or meet the reserve price, up to your maximum amount.
If another buyer places an equal or higher maximum bid, we will notify you by e-mail so you can place another bid. Maximum bids remain confidential until exceeded by another buyer.
Auction Ending Time
All items will close at if they do not receive a bid within minutes of the auction close time. If an item is bid on in the last minutes of the auction, time will extend another minutes for that particular item. The auction time will continue to extend in increments of minutes until bidding activity ceases for a -minute period.
Auction Watch List
The watch list feature allows users to create a list of all the items they are interested in following. Users can add items to their watch list prior to and during the auction by clicking on the button with an eye symbol. This feature allows users to keep an eye on all their items in the same place, which is especially useful towards the close of the auction. Users can avoid flipping through pages by consolidating all the items they want to watch/bid on in one place. Additionally, users can place bids on the overview watch list page, allowing them to continue to watch all items while bidding on individual items.
Still have questions?
Please feel free to call Amy at 773.877.3705. BidMed always appreciates user feedback, to share your suggestions, please e-mail amy@bidmed.com.