BidMed's Certified Refurbisher program adds a layer of trust for medical facilities looking to buy quality used medical equipment. Many of these users would not consider secondary market equipment otherwise, but know they can rely on BidMed's trusted network to provide quality assets that will meet their needs.
---
What Benefits do Certified Refurbishers Receive?
Tagged Listings
While any dealer can list and sell assets on the Exchange, only sellers who have completed BidMed's application and vetting process will be tagged with a Certified Refurbisher label. Buyers can filter listings specifically by seller type, narrowing their search to only quality refurbished equipment from our qualified vendors.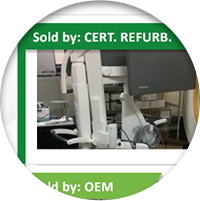 Exclusive Access to TractManager Member Hospitals
BidMed's partnership with TractManager gives Certified Refurbishers an additional platform to reach buyers. This exclusive network ONLY includes vendors vetted as Certified Refurbishers and includes thousands of member hospitals through TractManager's network.
How Does it Work?
Application
Get started with the vetting process now by downloading the application form. Complete and return this fillable PDF to info@bidmed.com.
Vetting Process
Upon receipt of completed forms, our staff will assess your process and score your application. You will receive a response by phone or email, letting you know if your application has been approved. If you were not approved, this contact may include recommendations on how to improve your process in order to qualify for certification.
Approved vendors will then be updated in our system, and will begin seeing the Certified Refurbisher tag on their Exchange listings.
---
Questions? Comments? Ask us in the comments below!